Tartan Variations Explained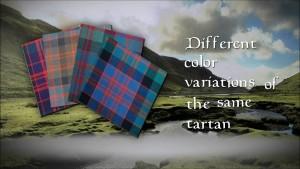 The main variations in Tartan styles are Ancient, Modern, Hunting, Dress and Weathered/Muted. Often people think this means they are different tartans altogether when in fact it is the same tartan, but with a different colour scheme. The tartan is woven using, for example, the weaver's own ancient or modern colour palette.
Ancient: Softer shades are used; reds tend to be orange. The weaver tries to imitate natural dyes used in the old days, often referred to as vegetable dyes although some also came from minerals and animals.
Modern: Brighter, darker and more intense shades are used. Reds, yellows, blues and greens are strong and bright. Whereas dark blues, blacks and bottled greens tend to be quite dark. These hues were made possible thanks to new chemical dyes invented in the 19th century.
Hunting: These tartans were traditionally worn when going out hunting. For this purpose, the colours were chosen to match the woodland background. Greens and browns are the strongest colours on these tartans.
Weathered/Muted: The palette of colours are chosen to try to imitate tartans which have been exposed to sun, rain and wind. Back in time, the kilts worn by Scots would have endured the harsh Scottish weather and terrain, and would therefore gain a worn and aged look.
Dress: These tartans are commonly associated with Highland Dance and are inspired by 18th century women's fashion. An abundance of white thread is commonly used to make up the design. Dress Gordon is the most popular tartan in this range as it is used in various fashion items.