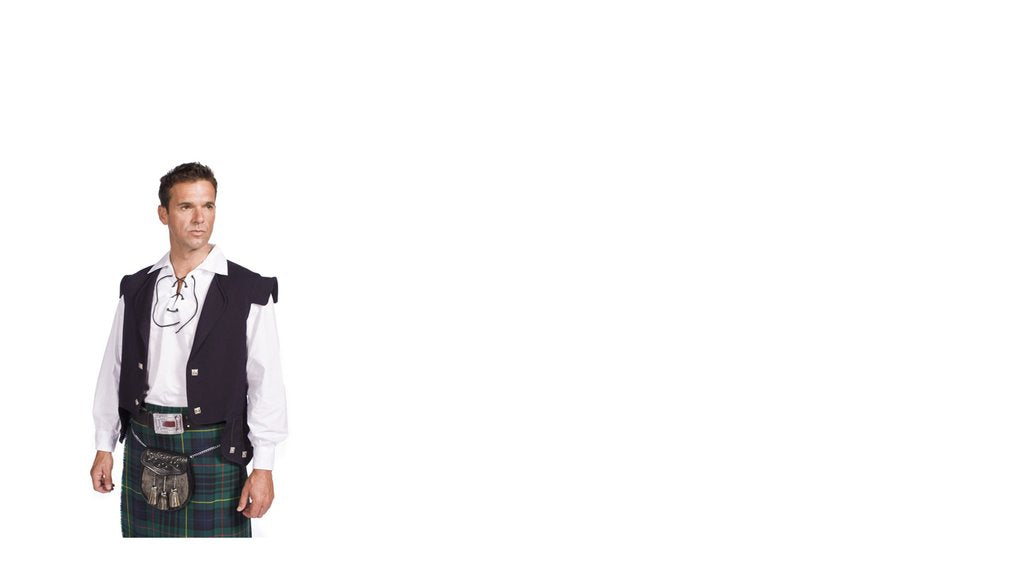 The Ghillie shirt - where would we be without it? Also known as the Jacobean and Jacobite shirt, the Ghillie shirt is a traditional shirt that tends to be worn as part of the kilt outfit.
The Jacobite period coincides with the reign of King James the first (1603 – 1625). Jacobitism was the political movement of the time which supported the restoration of the the Stuart family to the British Monarchy. Though similar in name they should not be confused as they are both two separate things. The Ghillie shirt was prominently used during this period.
The Ghillie shirt is incredibly versatile and allows for a more casual outfit compared to the standard shirt, waistcoat and jacket combination that can often be seen. The term "Ghillie" refers to the lace ties at the front of the shirt which are similar to those that can be found on Ghillie brogue shoes. Originally Ghillie shirts were cut from a square piece of fabric and with their simple shape allowed for less fabric scraps thus being more economically friendly.
Exclusive Scotland Kilt Company Black Ghillie Brogues
It is believed that the Ghillie shirt predates even the original Kilt as there was no mention of the Kilt until the year 1575! The modern Ghillie shirt has changed drastically over time but is still based on the same basic design. In addition to plain colours you can now find patterned and more festive Ghillie shirts!
Ghillie Shirts tend to be used for Ceilidh's and other types of dancing as they are light, have great air circulation and also offer less constriction as they do not require any form of tie. Ghillie Shirts don't have to be used solely with kilts however. Many people prefer wearing them with jeans or even tartan trews for an even more relaxed appearance whilst keeping a traditional element to their outfit.
11 Piece Casual Kilt Outfit with Ghillie Shirt
If you are interested in a Ghillie shirt why not browse our great selection at - www.thescotlandkiltcompany.co.uk!