The Ultimate Edinburgh Fringe Festival Tourist Guide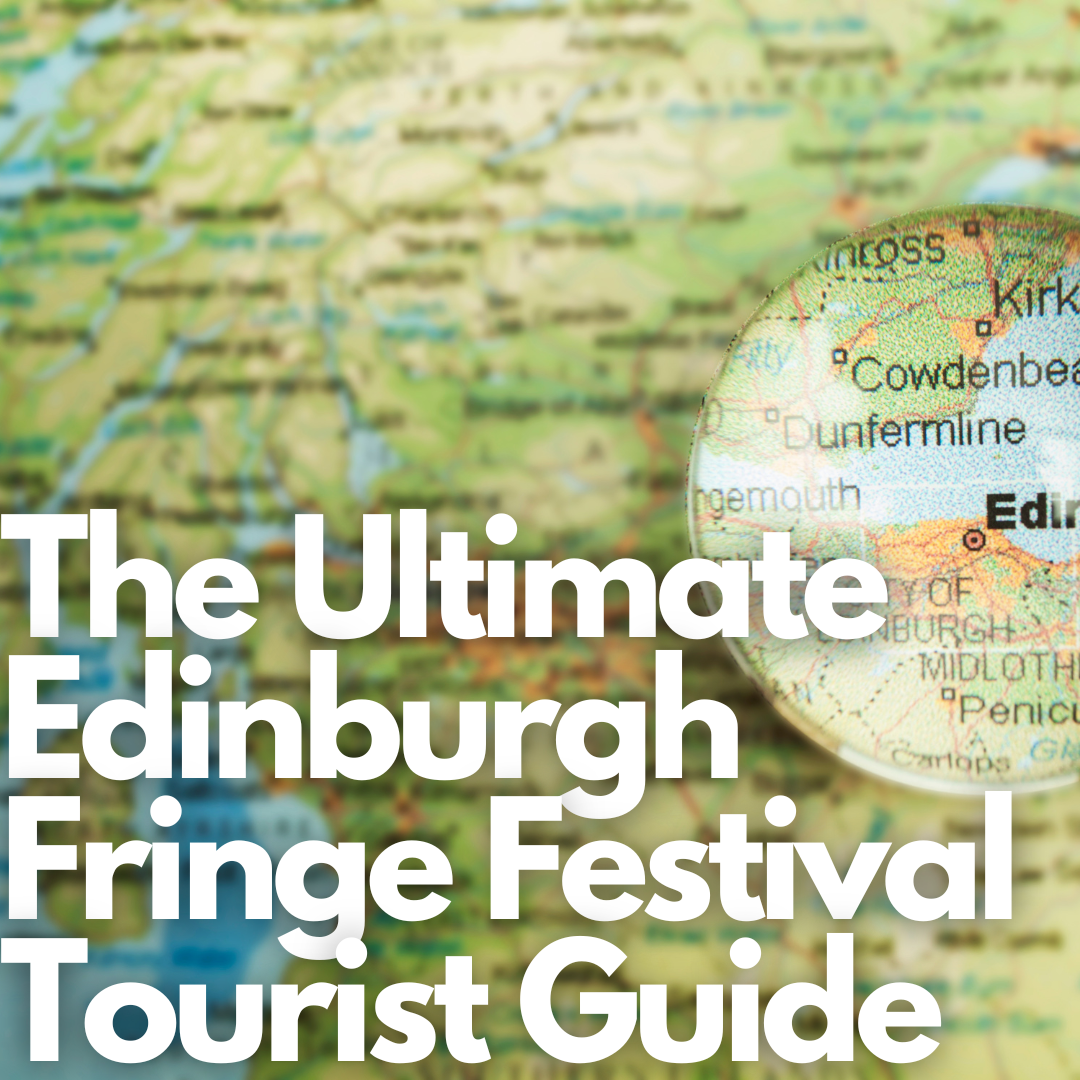 The Ultimate Edinburgh Fringe Festival

Tourist Guide
The Fringe is here! Officially kicking off on the 5th of August, we know many of you are visiting Edinburgh for the first time over the coming month. We warmly welcome you to our city! Navigating Edinburgh over the fringe can be somewhat overwhelming, with crowds tending to be common in the centre. There are thousands of shows, tourist attractions and options for travellers, and we're here to help you narrow down how to spend your time in Edinburgh. Here's the ultimate Edinburgh Fringe Festival tourist guide for 2022.
Where to Stay?
Edinurgh has hundreds of hotels, hostels, Air BNB's and bread and breakfasts available over the Fringe. What's best for you depends on your budget and how central you want to be. Some people love to be in the heart of the action, whereas others prefer to stay in quieter areas and commute into the centre.
If you're looking for something cheap and central, we'd recommend a hostel.
Edinburgh Central Youth Hostel is a great option for this.

Edinburgh Central offers 5 star VisitScotland accredited hostel accommodation in the heart of the city, close to major transport links and ideally positioned for exploring Scotland's capital during the fringe. Various room types are available from singles and family rooms to shared dorms with individual lockers. All are en-suite and premium rooms come with a TV, USB sockets and coffee making facilities.
Relax in the hostel's welcoming vibrant spaces - perfect for socialising. Our café bar is open from 7am to 11pm daily offering a selection of assorted teas/coffees cakes and cookies and alcoholic beverages. If you wish to self-cater, there's the option of a small but well-equipped guest kitchen.
Located from Haddington Place, this hostel is centrally located but not quite in the centre, meaning the price is reasonable and the streets around you won't be jam-packed. To find out more, click here.
If you're wanting something slightly more refined than a hostel, travel lodges are a great option. There are many located around Edinburgh, however prices do tend to rise over the Festival. Travelodge Edinburgh Central is located extremely centrally in St Mary's St, so you'll be in the heart of the Fringe. Prices are around £200 a night, but you'd save a lot on commuting around the city as you're walking distance from majority of things worth doing in Edinburgh. Click here for more information.
Where to eat and drink?
A huge bonus to Edinburgh hosting the fringe is the fun and interesting pop up bars that open in August!
We recommend checking out the very central Boxsmall Market, placed above the Princes Mall. Filled with charming wooden huts, Boxsmall Market hosts a variety of food trucks featuring diverse options such as Latin American arepas at Orinoco, or fried shrimp sandwiches at Shrimpwreck.
Alternatively, there is the Holy Garage at George Square Lane this year. For eleven months of the year, it's a lane of lock-ups and an electricity substation. But this is August, so the unassuming lane between the Meadows and George Square has been transformed into a half-inside, half-outside bar-slash-cafe. Coffee from Artisan Roast, beer from Barney's, meticulously prepared absinthe and a horsebox converted into a gin bar – it's the kind of place we wish we had all year round.
What shows to visit?
Eating and drinking out during the Fringe can be costly, but luckily experiencing shows and performances can be kept on a budget!
There is hundreds of Edinburgh Festival Fringe free shows placed around the city. Just hit 'filtered results', select 'special pricing' option then select 'free' here on the Edinburgh Fringe ticket website. However, it is still expected that you pay the show's worth at the end of the performance, whatever you think that may be. Some insanely famous acts came from free fringe shows, so it's definitely worth checking out. You might stumble across the next big thing! Many recommend dedicating a day to wandering the city, visiting as many free shows with variety as possible.
How to get around the city?
The majority of the city's top attractions are concentrated in the city centre and if you're staying near the Royal Mile, it's likely that you won't need to take more than a few buses during your stay.
Edinburgh has a few bus companies that run through the city, but the most important are Lothian Buses.
First and Lothian have similar prices but not exactly the same. For example: 
Single-journey adult ticket: Lothian Bus ticket is £ 1.80
Single-journey child ticket: Lothian single tickets cost £ 0.80
Lothian adult DAY ticket: Lothian offers unlimited use of their buses and Edinburgh trams for one day for £ 4
Lothian child DAY ticket: £ 2
Lothian Adult Airport DAY ticket: This ticket offers unlimited use of Lothian buses and trams and includes travel to and from Edinburgh Airport for one day for £9
Lothian Child Airport DAY ticket: £ 4.50
Lothian allows its passengers to purchase the tickets on the bus.
Note that a Lothian DAY ticket is not valid on the night buses or on the Air link (service 100) to Edinburgh Airport.
If you want to purchase your single, return or day-ticket from the bus driver you have to have the correct fare as the drivers cannot give you any change. The tickets are bought from small ticket vending machines on the bus, so remember to save your change for these occasions.
Edinburgh tram has one route that connects York Place with Edinburgh Airport. The route has 15 stops; all of them are wheelchair accessible.
The Edinburgh tram is not very useful for tourists except to go to and from the airport. The best way to get around the centre is by foot or by bus. It takes 35 minutes to get to Princes Street (the closest stop to the city centre) from Edinburgh Airport.  
The tickets are purchased at the tram vending machines located at each tram stop. You will have to have the exact change or use a debit or credit card since the vending machines don't give any change. Once you have bought your ticket you will need to validate it on the tram or Lothian bus (within 30 minutes of purchase).
Fun and Unique Ways to spend the day?
One the most iconic sights of the Fringe, you could spend hours entertained on the famous Royal Mile alone. Filled with musical performances, magic acts, demonstrations and show advertisements, the Royal Mile are known by most as the heart of the Fringe. If you're prepared to stand in the busy crowds, the atmosphere and sights are definitely worth it.
The Royal Mile is also home to some of Edinburgh's most central and popular hotels, gift shops, cafes and restaurants, so it's worth staying close by to if you're not familiar with Edinburgh. There are several information desks available to help out if you need assistance with navigating the festival.
Taking a tour of Edinburgh is an absolute must if it's your first time visiting the city. Edinburgh is bursting with spooky and fascinating history, and a diverse range of tours is put on over the fringe.
Fancy meeting some ghosts? We recommend the world famous Underground Ghost tour! At street level, Edinburgh is a peaceful and pretty city—but the subterranean tunnels below tell an entirely different story. On this ghostly walking tour, you'll explore historic sites including Grey friars Kirkyard and St. Giles' Cathedral with your enthusiastic guide, and hear chilling tales of murder and revenge. Delve down into underground caverns normally closed to the public, and learn of Edinburgh's grim and gruesome past.
Click here to buy tickets.
If you're looking to explore less of the scary side of Edinburgh and more of the historical, there's the Tale of Two Towns tour. This unique tour sets out to inform and entertain you walk into both the Old and New towns, giving you a real sense of the two sides of Edinburgh; revealing some of the secrets hidden within a city rich in culture and history. This tour will bring Edinburgh to life as you stroll along the narrow streets of the Old Town, revealing the secrets that lie hidden in its dark closes.
Click here to buy tickets. 
If you're into something a bit more livelily, we recommend the Silent Disco Tours this Fringe. Following the last few years of sell-out, five-star shows, and the Silent Adventures team are back with even more madness and brand-new adventures to boot. With the magical headphones you'll feel your inhibitions evaporate as the tour leads you on a fun-filled silent disco tour of the capital. Expect song, dance, flash mobs and surprises in the most feel-good hour of the summer.
Click here to buy tickets.