A quick guide to Kilt Outfits!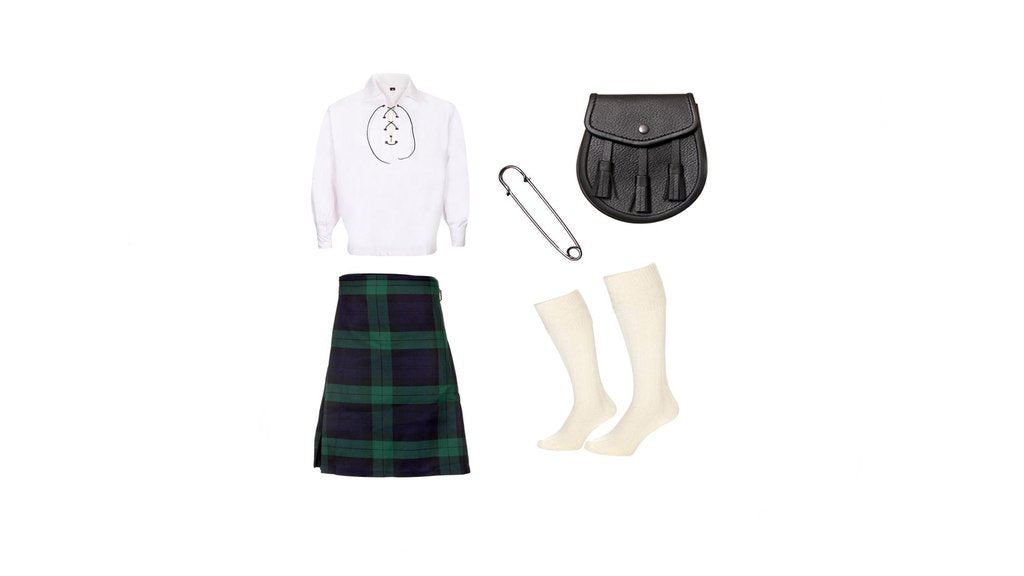 When you are invited to a wedding or a formal event in Scotland the decision between wearing a full kilt outfit or a more traditional suit is a difficult one.Though you may want to represent your family or try something different most people think that a kilt is going to cost them a very large amount of money. However this is usually not the case! The perception of kilts being expensive comes from those that own custom made family tartan wool kilts. This is the most traditional type of kilt and looks the best, however unless you are planning on wearing it multiple times a year consistently it is not always feasible due to it's price (£300 - £500). Pre-made kilts are a much more budget-friendly alternative. There are roughly 20 tartans that can be found in pre-made kilts as these are the most common and specific family tartans can become costly depending on the rarity of the tartan.
There are many different types of pre-made kilts, from party kilts pricing at around £25 to more standard 8 yard poly-viscose kilts that cost around £50. Factors such as the occasion, location and how often you plan to wear the kilt, can help lead to the right product for you. The cheapest party kilts are acrylic 5 yard kilts, these are perfect for sport matches, pubs and souvenirs. The next level up is the poly-viscose 5 yard kilt. These are similar to the more formal 8 yard kilts with the only difference being less material is used, thus there are bigger and fewer pleats on the back of the kilt. The poly-viscose kilts are again suggested for parties or formal events taking place in warmer climates e.g. vacation weddings.   
After choosing the type of kilt you need to narrow down the choice of tartan. A question that is asked fairly regularly is whether anyone will get offended if you wear their family tartan. The answer is that - no most people will not be offended as there tend to be around 20 tartans that are normally available in the pre-made kilts and their family themselves will have most likely worn another tartan at some point in their life. There are certain tartans that can be used if you are worried about this. Royal Stewart, Blackwatch, Heritage of Scotland, Freedom and Scottish National. These tartans can be seen all over Scotland, especially the Royal Stewart tartan which can be found on shortbread packets, teddy bears and mostly around tourist areas, as it is what comes to most people minds when they think of Scotland: Tartan.
There is only one tartan that you are unfortunately not allowed to wear. The Queens Tartan. Only people with permission from the Queen herself can wear this tartan. You will often see the Queen in a Royal Stewart tartan though this is not her family tartan.
After choosing a type of kilt and tartan the next decision is what type of shirt to wear with it? The traditional Ghillie/Jacobean Shirt or a formal butterfly shirt with a bow tie etc? The ghillie shirt is a more relaxed style with no neck tie or bow tie needed. The formal shirts however can be paired with different kilt jackets. The Prince Charlie Jacket and the Argyle Jacket are the two most popular types. Argyle is a more standard make of jacket with a higher set waistcoat where as the prince Charlie is a low waistcoat with a higher closing jacket and tails. Deciding the colour of shirt is also important just as with any outfit as all of the small details must compliment each other.
For a kilt outfit there are many accessories that can accompany the basic kilt. For more information on the history and types of kilt outfit accessories please see our  previous blog post - "The History of Kilt Accessories".
The sporran is the first accessory this a comes to mind. This is a small bag that attaches to a chain belt around the waist. It hangs lower than most people think and can come in a variety of materials and price points. Many women have taken to wearing them either as shoulder bags or as they are traditionally worn.
The kilt belt and buckle is above the sporran and can be a traditional plain buckle or extravagant and modern.
Next is the hose, the special style of sock worn which are much longer than standard socks and fold down at the top. The hose are connected to two other accessories, the flashes, which are a patch of the same tartan as your kilt and are attached before folding the sock down like a sock garter and the "Sign Dubh" which is a small knife that is tucked into the sock. You can get imitation ones for safety.
Last but not least is the Kilt pin. Originally placed on the top layer of the kilt to keep from blowing up and revealing too much. The pin is made from a heavier metal and is often in the shape of a broad sword.
This is our quick guide to kilt outfits and how to pick the one that is perfect for you! Please browse our website to find kilt packages which will allow you to purchase the outfit either in full or in however many pieces you wish. If you have any questions regarding anything kilt related feel free to contact us via email, phone or social media or even pop into one of our shops on the South Bridge in Edinburgh.