Knitting – a Scottish Craft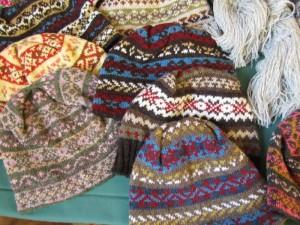 The first knitters in Scotland were highly paid craftsmen of the 16th and 17th centuries. Knitting then became an important occupation among the general population during the mid 17th and 18th centuries. There is an ancient rural tradition of spinning, weaving and knitting; entire families were involved in making sweaters, accessories, socks, stockings, etc. Knitting was sometimes the only way in which the inhabitants of poor regions were able to earn money. Little equipment was needed, it could be practiced by both men and women, and it was a skill that could be passed down the generations. Different areas had their own distinctive style of knitting and/or a particular garment for which they were known for.
Woolen sweaters were popular and important garments for the fishermen of the Scottish islands  because the natural oils in the wool protected them against the harsh winter weather they encountered while out fishing.
However, over the years, the entire Scottish hand-knitting industry declined dramatically due to a variety of reasons, especially the loss of trade to the American Colonies and the increasing industrialisation of spinning and processing wool.
One of the most well known examples of traditional Scottish kniting, which has been practised continuously by generations to this day, is the Fair Isle Knitting, which requires double-pointed needles , known locally as wires, along with a special padded knitting belt. This style of knitting uses a limited palette of five colours and never more than two colours in any one row, and most patterns consist of small motifs repeated across the piece. A small quantity of exclusive hand-spun, hand-knitted items are still made on the Isle, as well as a number of high quality hand-frame garments.
Nowadays, there has been a revival in the popularity of crafts like knitting, crochet and weaving, especially in the Scottish Highlands. Also, knitting is one of the most relaxing and calming activities you can do. As they say, keep calm, and keep knitting!